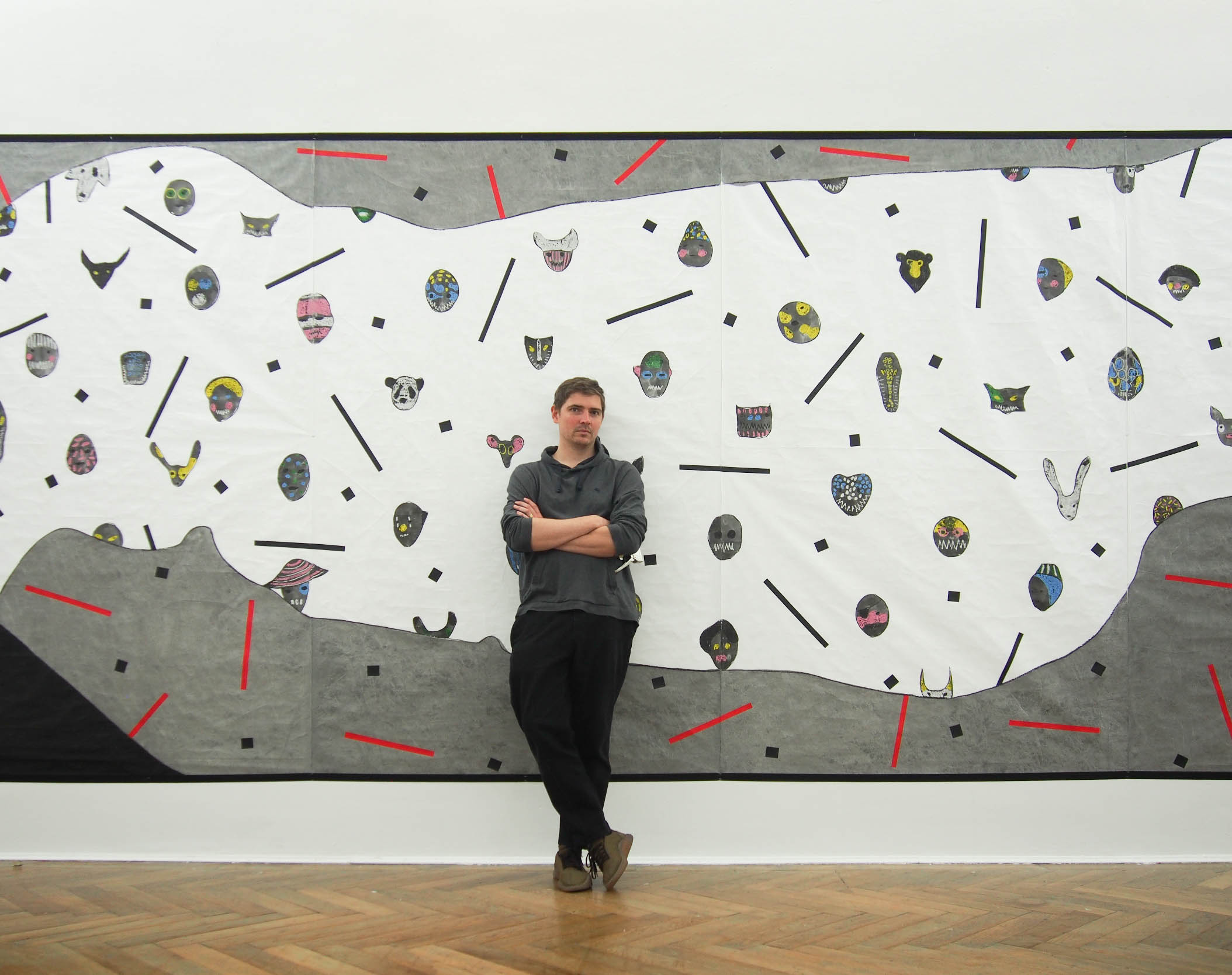 Matthew F Cheyne
B. 21 November 1978
Queensland College of Art, 1999 – 2001
---
Matthew Cheyne is an Australian artist, working in oil painting, drawing and sculpture. He graduated from the Queensland College of Art in 2001, having also studied film, and literature.
Currently based in Ipswich, Cheyne has spent much of the last decade living in Germany and France and has had solo exhibitions in Cologne, Berlin and Luxembourg. In Australia, his work has been shown at Casula Powerhouse in Sydney and at the Australian National Archives in Canberra, as well as with numerous commercial and public galleries.
Matthew's drawing is the subject of a book entitled "Theory of Flaw", published by Capital P. He was recently part of an artist exchange to Sichuan, China, completing work for Pengzhou City's permanent collection. His work is in collections in Australia, Malaysia, France, Germany, China and the United States.
Solo Exhibitions /
2019 / Volcano Times, Pop;68, Cologne, Germany
2019 / Broken Glass, Redland Art Gallery, Capalaba
2018 / Theory of Flaw, Ipswich Art Gallery, Ipswich
2016 / Hyper Local, Substation No.5, Brisbane
2012 / Locus Amoenus, Gallery 62 Robertson, Brisbane
2011 / Preview, Galerie Schortgen, Luxembourg
2010 / Drawing Room Luminaries, Libby Edwards Galleries, Melbourne
2009 / Sleep, Rumour and Vice, Galerie Kollaborativ, Berlin
2008 / Pantheon of Karalee, Libby Edwards Galleries, Brisbane
2007 / Recent Works, Libby Edwards Galleries, Brisbane
Selected Group Exhibitions /
2017 / Colours Of Queensland, QRAA Touring Exhibition, Selected Regional Galleries
2016 / Brisbane Art Prize, Judith Wright Centre, Brisbane
2014 / Returning Winners Program Nudgee, College Art Festival, Brisbane
2013 / Selections from the Waterhouse, National Archives of Australia, Canberra
2013 / Summer Show, Libby Edwards Galleries, Melbourne
2009 / NAM-BANG, Casula Power House, Sydney
2006 / Ten Artists, The Stockroom, Brisbane
2006 / The Extra in the Ordinary, Charles Ginn Gallery, Brisbane
2005 / The Everyday, Charles Ginn Gallery, Brisbane
Awards /
2019 / International Artist Exchange, Pengzhou, Sichuan, China / Australian Delegate
2016 / The Ipswich Art Awards, City of Ipswich / Second-Prize Winner
2015 / The Moreton Bay Art Awards, Pine Rivers Regional Gallery / Finalist
2014 / The Percival Portrait Prize, Perc Tucker Regional Gallery, Townsville / Finalist
2014 / The Moreton Bay Art Awards, Pine Rivers Regional Gallery / Finalist
2013 / The Waterhouse Natural Science Art Prize, SA Museum, Adelaide / Highly Commended
2013 / The Gold Coast Art Prize, The Arts Centre, Gold Coast / Finalist
2013 / Fisher's Ghost Art Award, Campbelltown Arts Centre / Finalist
2013 / The Adelaide Perry Prize for Drawing, Sydney / Finalist
2013 / The Sunshine Coast Art Prize, Caloundra Regional Gallery / Finalist
2011 / The Prospect Self-Portrait Prize, Adelaide / Finalist
2010 / The Metro Art Award, Melbourne / Finalist
2010 / The Eutick Memorial Still Life Award, Coffs Harbour / Finalist
2010 / The Redland Art Award, Brisbane/ Finalist
2005 / The Artworkers Award, Brisbane / Finalist
2004 / Noosa Gallery Art Award, Noosa Regional Gallery / Finalist
2004 / The Nudgee Art Award, Brisbane / Major Prize Winner
2003 / The Churchie Emerging Art Award, Brisbane / Finalist